I've been treasure hunting again!Man, I'm on a roll lately...
This hunt was particularly exciting because I came upon it so unexpectedly. I was puppy-sitting my friend Brittany's little guy and decided to take him for a quick walk down the street. When we hit the sidewalk, I immediately noticed that the other side of Swiss Ave was buzzing with activity. Of course I had to get a closer look, so down the street we went. As we approached my heart beat faster and faster... Could it be? A Swiss Ave estate sale? This busy on a Thursday?? Surely not. How did I miss the signs? I dared not get my hopes up.
Suddenly these two older ladies started ohhing and ahhing and approaching me at breakneck speed. They'd spotted Nacho-the-super-cute-puppy from the road and bolted out of their van to pepper me with a thousand questions and compliments. "How old is he? What's his name? He's gorgeous! What breed it he? He looks like a mix! What's his name? He's not yours? Oh, he's so sweet! What's his name?"
I somehow managed to steer the conversation to the estate sale while they passed him back and forth. Turns out, these two were a wealth of information filling me in on all the details regarding the sale. Apparently the guy who owned the house was moving and he just happened to run estate sales for a living, so this should be, according to Nacho's new friends 'cream of the crop stuff'.
I dared not go inside with a puppy though. Everyone would want to squeeze him thus effectively distracting me from close examination of all the untold treasures. No, Nacho would have to go home first.
Over the next few days I would return to the sale 4 times. I obviously had to take Josh back to show him any and everything of interest, and my mother-in-law was flying in Friday so of course I had to take her. These were all excellent excuses for me to pilfer about again and again. The first time is really just to get a good feel, scout it out, get past the overwhelming rush of what might be. Returning is where things get serious, and really, this is the treacherous window of time I've learned to avoid if I really don't want to spend money.
The twist to this story however is that Marsha, my mother-in-law, had never been treasure hunting with me before. And I must point out that I'd been very disciplined up until this point, managing to only admire but not purchase a single trinket. But then, smack in the middle of my dangerous window with Marsha in tow (aka-back at the sale for another sweep thru using her as my excuse) I happened to come upon this elegant lady I'd somehow missed before. My eyes immediately widened with admiration and I reached for her, caressing and cuddling her to my chest with sheer longing to take her home to safety.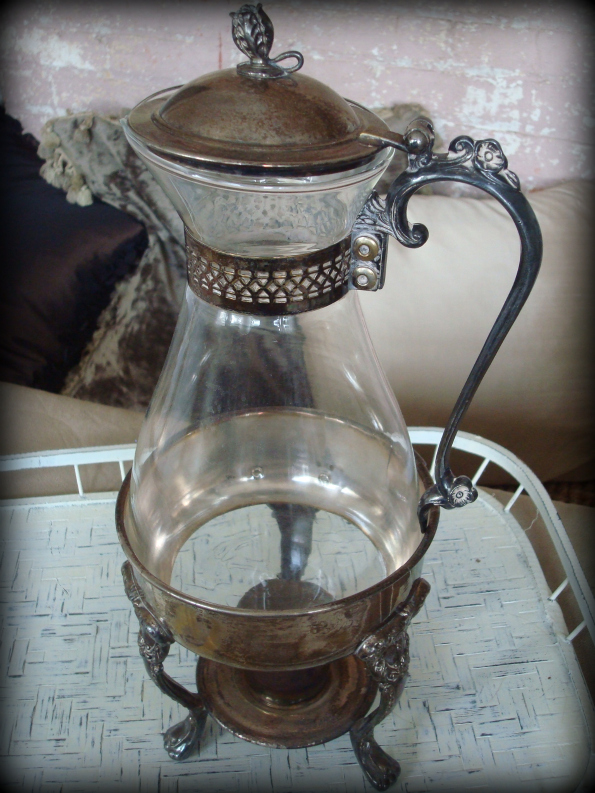 Caught up in my own dramatics I failed to realize how persuasive I can be with words, even when I really don't mean to be. Marsha was entirely amused, as was the guy manning the room with his little receipt book in hand. They both stopped and stared at me silently as I examined her, gushing about her loveliness and how much better she was than a Chemex. It was love at first sight. She charmed me on the spot. I couldn't help it.
Witnessing my entirely sincere and enthusiastic love poem on display, Marsha caved. What else is a mom to do when she sees her only daughter-in-law's face light up in sheer delight?! "You know you have a birthday coming up." My eyes shot her direction in slight disbelief. The receipt guy saw his moment and leapt, "And today it's 25% off, which would make it $18.75, but if you take it right now I'll sell it to you for $15." My mouth gaped open, looking back and forth between the two.
Feeling so silly for my ridiculous display of emotion over a teapot and suddenly realizing how closely I'd been watched, I blushed, "Oh...no, no. It's lovely but I don't need another teapot. Maybe I'll come back later..."
He pushed, "May not be here later! And the deal definitely won't be." I smiled, thanked him, exited quickly still feeling embarrassed.
Long story short, we went back for her a few hours later ;-) Thank goodness she was still there, sitting amidst the silver in all her regal glory! And receipt-man did extend the deal, despite his earlier threat. Big softy. He knew she was meant for me. He couldn't deny our destiny.
Look at her beautiful detail: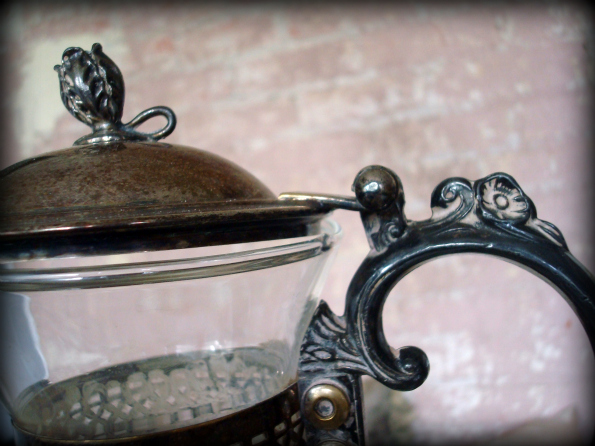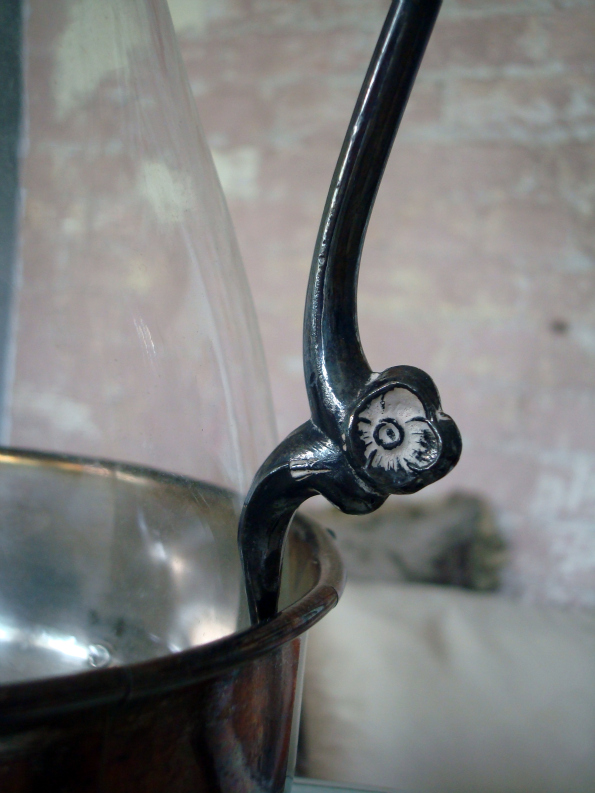 And get ready... Here's her most charming feature, the most gorgeous legs and a little silver candle holder for a votive to keep your tea warm! How genius! *sigh* I couldn't possibly love her more.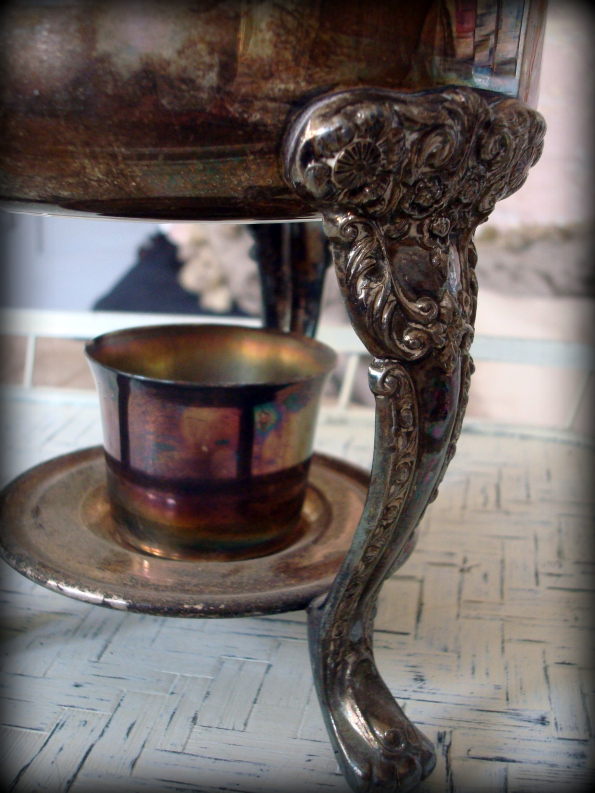 Marsha was also amused by my refusal to polish her up. I much prefer silver tarnished. I just love it. She asked me half a dozen times if I was sure I didn't want to shine it. I kept assuring her I didn't. My new Love is perfect just the way she is.
Before leaving with my birthday treasure Marsha also reminded me of an old book I'd adored earlier, offering to add it to my loot. Didn't take much arm twistin' on that front either! It's called, British Poets of the Nineteenth Century. Goodness, just the title is romantic... Look at it!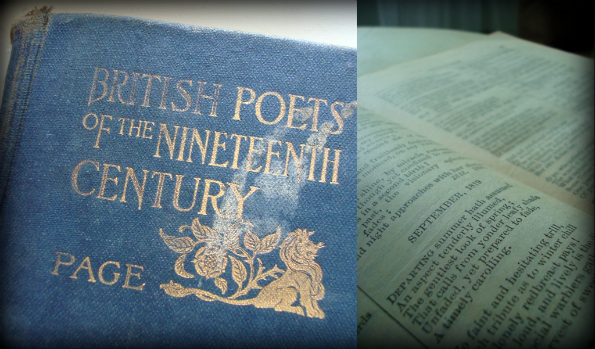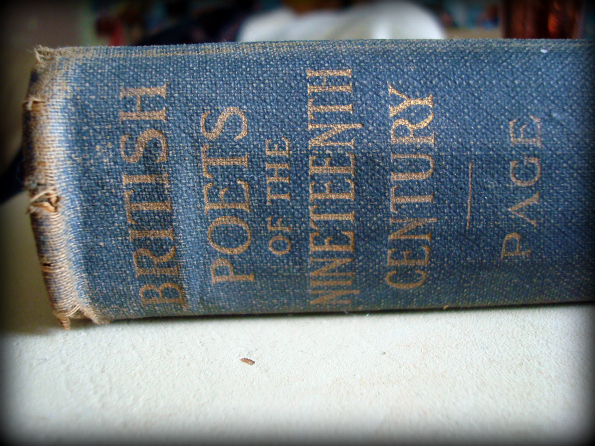 It's perfectly tattered and aged, pages yellowed and scribbled across by someone who clearly cherished it before me, which I love. It's full of so many of my absolute favorites: Tennyson, Keats, Byron, Browning, Colerigde, and it even opens with a whole section on Wordsworth! (who's homes and gardens I've meandered thru in recent months in the English Lake District)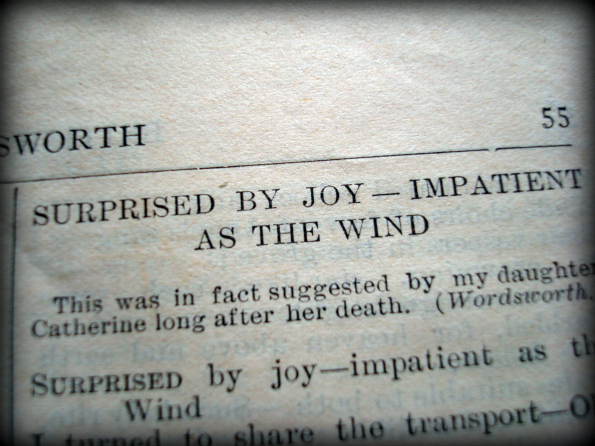 I will spend many hours with a candle-warmed pot of tea in dim kerosene lamplight getting to know these men better, gleaning from their intricate way with words. Yes, a tattered $3 book of British poetry really does thrill me. Immensely.
And look... they even look amazing together!

So there ya have it, my most recent treasure hunting expedition report! Wasn't that so much fun??!
P.S.-A little teaser for ya, we made one final trip back to the sale on the 60% off day and much to our surprise Marsha discovered a beautiful old mahogany buffet tucked in a corner with a shocking $85 price tag. (we've been searching for one forever) After the discount that meant we could take her home for an astounding $34! Marsha called it an anniversary gift and I declared to Josh that we should never attend an estate sale without his mother again! ;-)
We rolled her proudly down Swiss on a furniture dolly and between the three of us managed to drag her up two flights of stairs, where she currently sits awaiting a makeover. I promised her I wouldn't show before pictures until I have the afters to appropriately bookend. Don't want to shame her ;-) Soon as she's done however, you know I'll be showcasing all her delightful attributes and splendor!
Have you found any treasures lately?? Or am I the only person hitting up garage sales and flea markets in all this gorgeous weather??