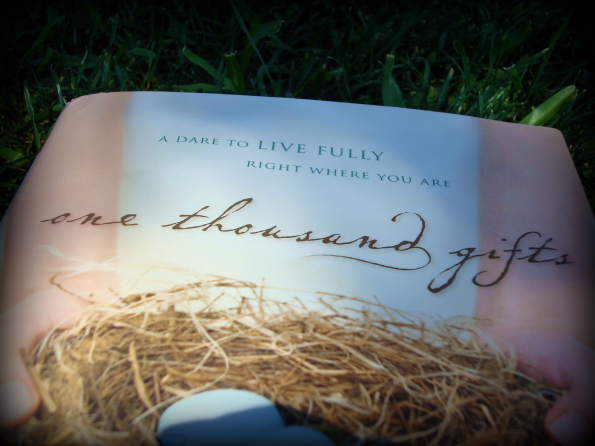 I suggested and recommended this book to friends before ever actually purchasing my own copy. I'd heard so many wonderful things about it and read enough reviews, not to mention having followed the author's blog long enough that already I knew I'd love it.
I could not have wagered however, how much I'd love it. It's a life changer.
Every once in a while I come across a book that reads both memoir and teaching, both story and lesson, and it does something to me that I cannot fully articulate. Bird by Bird by Anne Lamott is one, Sabbath by Wayne Muller is another, just about anything by Marlena di Blasi or Shauna Niequist, and though I'm only a few chapters into One Thousand Gifts, no question it makes the short list.
This strange dichotomy occurs, where I find myself thinking obsessively about doing nothing more than reading the day long, but every time I pick it up I almost... tremble on the inside. I can only read a few pages before I have to put it down, as if touching it makes my fingers burn. It thrills me beyond words and yet causes this sort of violent reaction all at once.
It's what happens when a soul brushes past divinity I think, when searching eyes lock hard on holiness. When I encounter truth, my heart begins to race. I feel ecstatic and overwhelmed all at once. I want to run and tell everyone I know immediately, yet in the same moment retreat to a hidden place entirely alone with God and murmur not a syllable. It's perplexing.
It must be what it feels like to peer into the piercing eyes of God. Compelled but unable to look, all in the same instant. A rush of conflicting emotions, full and rich and real.
With Bird by Bird it's writing. With Sabbath, communion with God by observance and rest. With Marlena it's travel. And with Shauna, all of the above. My truths, my unique and specific truths. He meets each of us there in our own lives, teaching, nudging, encouraging us forward. It's the mystery of being a part of the Body, uniquely called yet undeniably connected, all serving the same grand and fundamental purpose in our own small yet unprecedented way.
So here I am again, delighting, trembling, communing momentarily with holiness, reading and re-reading every page. The premise of the book is simple: profound joy is discovered thru thanksgiving, and living in such a place of delight is to truly, wholly, fully live.
Thing is, I've been living my life in this very way for a long time. It's why red berries speak to me, and feathers, and patches of morning sunlight filtering thru the trees... just a few of a million things. I delight in them, celebrate them, connect with their creator and thereby hear the voice of God. And in that communion, I thrive. Abundant joy, abundant life. It's that simple.
"God hath chosen the foolish things of the world to confound the wise; and God hath chosen the weak things of the world to confound the things which are mighty..." 1 Corinthians 1:27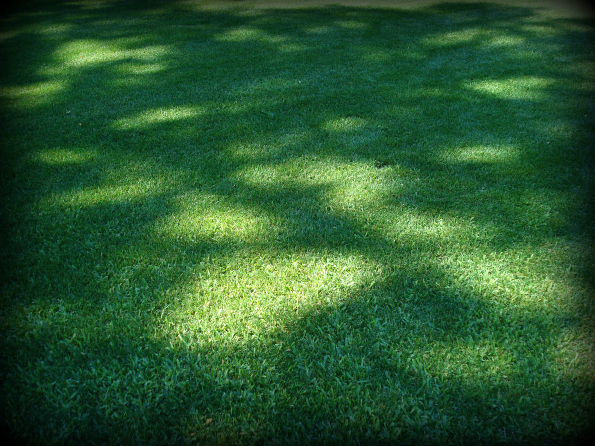 And reading Ann's words, hearing her articulate in her own beautiful manner that which I know in my soul to be true thrills me, like peering at my reflection on the surface of glistening waters, "Hey! I think I know her!" We've discovered the same truth, the same treasure. It excites me, makes me giddy, causes me to spontaneously dance around in my kitchen and sing at the top of my lungs, whisper sacred prayers of thanks here and there throughout the day, to giggle simply because the sun is shining, to weep for the same.
Sheer. Unadulterated. Joy.
I want to stand on the corner and pass copies of the book out to everyone who passes with a note that says, This is it! This is the secret! Don't miss it. Please don't miss it...
A few nights ago Josh and I went for our evening walk down Swiss. The sun was just setting. I was rattling on and on about my new book, how much I love it, filling him in on all the details when suddenly he gasped, grabbing my hand and dragging me to the edge of a lawn.
"Look! There! You see them?" It took a moment for my eyes to adjust, but there they were in all their splendid glory, a flickering swarm of lightening bugs dancing and twirling just above the fresh-cut grass. We stood for a long, silent moment taking them in. "They're the first ones I've seen this year," seemed an explanation for his boy-like enthusiasm.
I smiled,"You think God made lightening bugs just to delight us?"
"Maybe." We pulled ourselves from the scene, heading back towards the road.
"Well, maybe He didn't create them exclusively for our delight as I'm sure they serve other purposes as well, but I certainly think that's part of the reason," I conclude.
"Definitely! He delights in our delight. So if we delight in lightening bugs, then in this moment, God created lightening bugs for our delight. And He delights in that, too. Right?"
We both laugh, still pointing and marveling at the dance of flickering lights that seemed to be following us along the sidewalk.
I continue pondering aloud, "That was it, you know. That was the essence of One Thousand Gifts, the essence of joy." I glance and find him smiling. "We just got a heavenly demonstration of the very thing we've been discussing right before our eyes. I love when He does that. That's a gift in itself."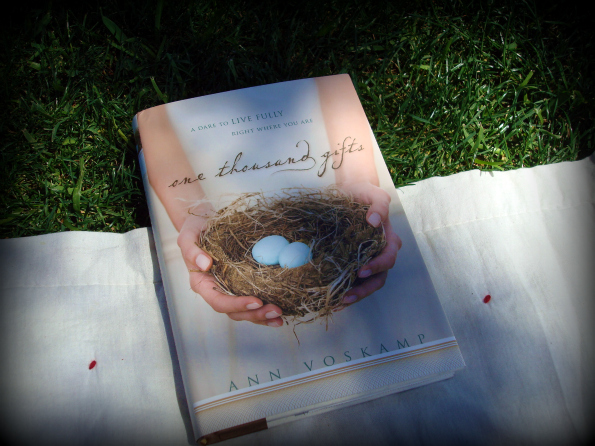 Whether it's berries or birds or a hot cup of coffee, a little girl laughing, a flower in bloom, or a book on a blanket in the sunshine... delight in sacred moments. Because in doing so, you're delighting in Him. And that my friends, is the the purposed essence of all things.
"The aim of life is to live, and to live means to be aware, joyously, drunkenly, serenely, divinely aware." -Henry Miller
What simple moments and pleasures are you delighting in today?? What makes your list of one thousand gifts??