This weekend we loaded up with friends and headed to one of my all-time favorite treasure hunting spots, the Bonham, TX Trade Days. They hold it once a month, every third Monday or first Friday or second Sunday after the first Tuesday or something like that. (I always resort to asking my mom, I never know for sure.) I love it because it's truly a flea market, and by that I mean a few rare treasures mingled in with lots of junk. The junkier the market the better in my opinion, and Bonham never fails on that front. It's not nearly as much fun when it's antique-y and boutique-y and waaay overpriced. That's always a bummer. I also grew up going here year in and out for about as long as I can remember, so it scratches my sentimental itch, too.
(Funny side story: I shared with the girls how I used to love going because my mom always let me get a bunny. They were only a few bucks, and I'd always joyfully tromp over to the animal area with my bills in hand for the exchange. I'd cuddle them all the way home promising to love them endlessly, but mysteriously and inevitably they always died, usually within a few weeks or even days. I didn't mind ALL that much, because I knew it meant I'd be able to get a new one next time! Reminiscing of all my bunny love as a child I quietly thought aloud, "I have no idea why they always died..." To which Kyle chuckled, "Probably because you bought them at a flea market!" I couldn't help giggling. I'd never even considered it.)
Anyway! Back to our adventure! It looked something like this: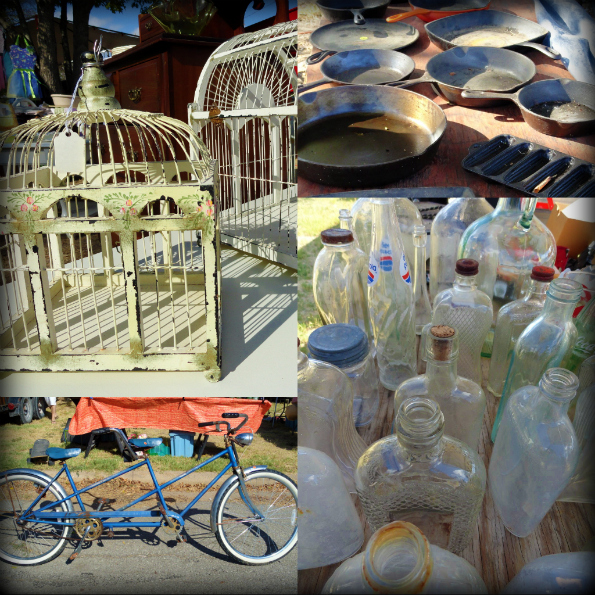 Beautiful, chippy bird cages, endless cast iron, lovely old bottles, an adorable tandem bike I tried to talk my husband into. FAIL ;-)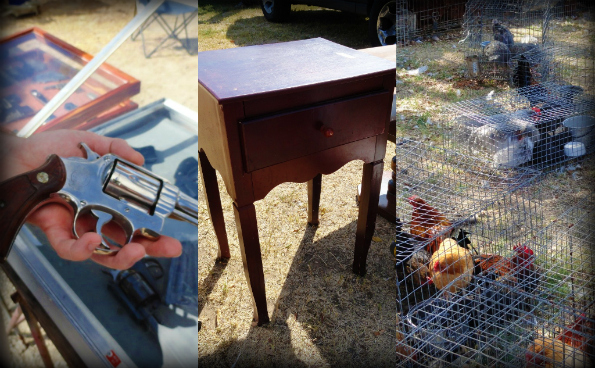 Josh found guns, of course. Brittany scored a great little solid wood end table for an astonishing $3. I found lots and lots of chickens. (and ducks and geese and puppies and goats and etc. And no, I didn't bring any of them home this time.)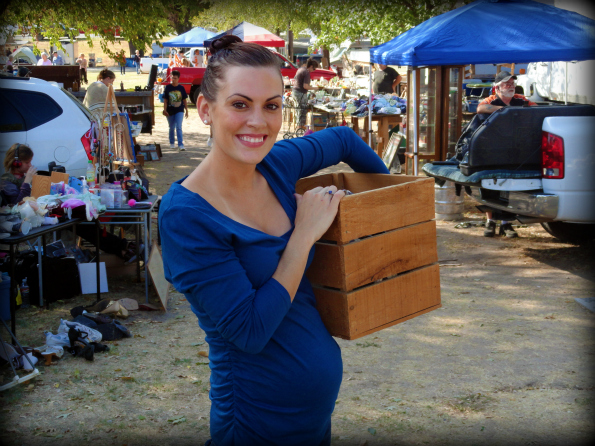 An hour in and this happy pregnant moma had already scored baskets, crates, 4 gorgeous chairs, a quilt box from the 40's, a variety of decanters, a gorgeous bird cage, that cute little $3 end table, and a handful of other odds and ends. And I think she spent a total of $22. (JUST kidding! Although it was shockingly cheap. Thank you, Mr. Flea Market! This is precisely why we've come.)
Josh and I decided Brit was majorly showing us up, so we put on our game faces and decided to get in the game! Don't be deceived by the smiles. It's ALL part of the strategy...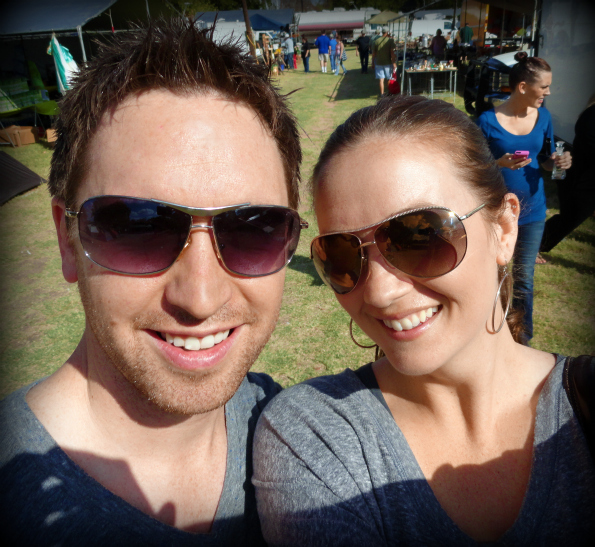 Ah! Now we're talkin'! Let's DO this!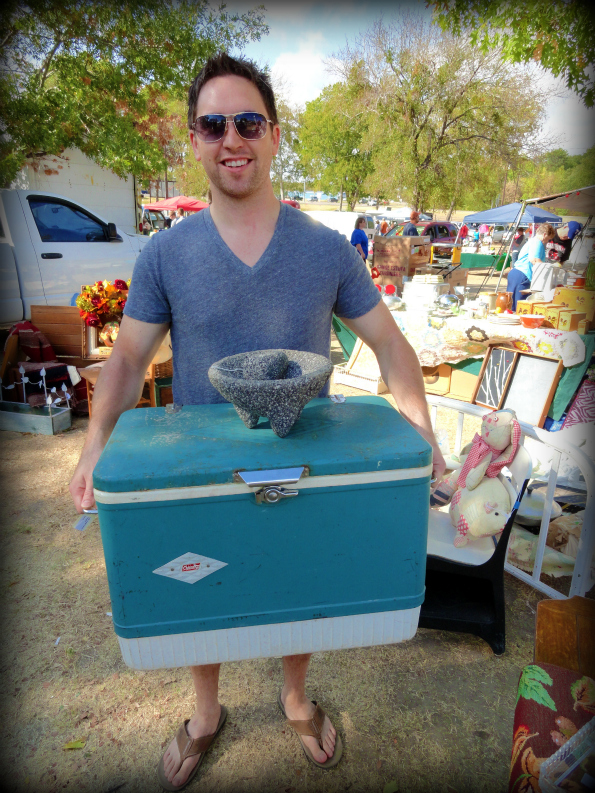 There's nothing sexier than my man haulin' loot for his prego wife...
We stashed all our treasures in the care of a nice lady who sold us a bunch of stuff (you can totally do that in the country and never give it a second thought) and tromped off in search of something cold to drink. Ah yes, this'll do the trick...

Old fashioned root beer! Sasparilla, cream soda, black cherry, orange cream... yes, please! Just look how happy they are ;-)
It only took us a couple solid hours to do the necessary damage. Next challenge, getting all our stuff to fit in the car. Hmmm....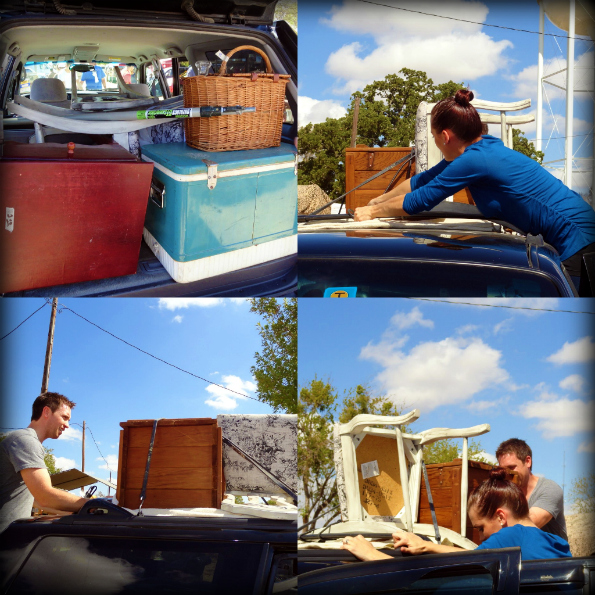 Check out a pregnant Brittnay fearlessly strapping furniture to the roof. And we literally had an entire cheering squad of strangers. They lauged, pointed, gave advice here and there, loaned us a screwdriver, showed us how to alter the rack on the roof for a tighter fit, and even took a group shot of us after we finished loading. It was awesome. One lady even declared us her heros ;-)
I admit it wasn't the most comfortable ride home for Kyle and I, crammed in the backseat with one of the 4 chairs wedged between us. But hey, when it comes to treasure you do what you have to.
Here are my favorite finds of the day:
Vintage leather suitcases. I have a serious affinity for old trunks and suitcases. Maybe it's the travel vibe, I don't know. I just love them. And these were too perfectly tattered and gorgeous to pass up. We managed to cram them in just as we were leaving, on top of the already crammed trunk space. Everytime Brittnay hit the brakes they slid forward into the back of mine and Kyle's heads, but like I said, for the sake of treasure...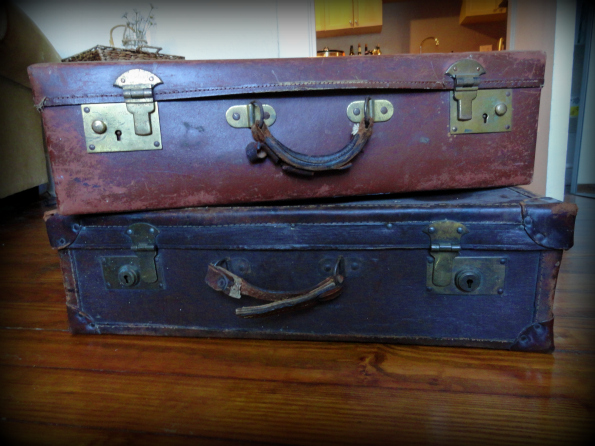 A 1950's copy of The Joy of Cooking! What's not to love?? It even had yellowed newspaper clippings from the 50's tucked inside the pages. $1. *sigh*
This rustic mortar. It's super heavy and porous, perfect for grinding spices and grains. (I'm taking the challenge to bake my own gluten free millet bread in the coming weeks, so this was quite timely!) And Josh masterfully negotiated it down from $8 to $4. Nice! Do you know how expensive mortars are??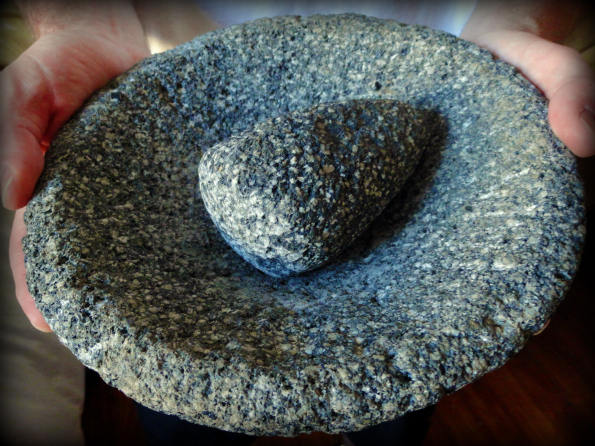 And this vintage beauty, my favorite find of the day.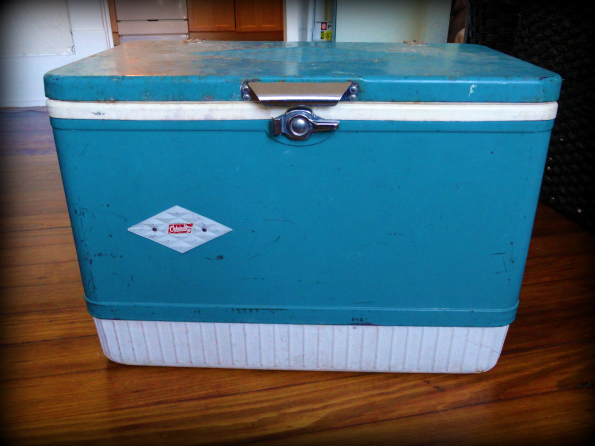 Let me just tell you, we use our cooler religiously. In fact, we've taken to simply keeping it stored in our trunk it gets so much use. Every time we go to a farmers market, a local farm, or even just a day trip to visit my parents or friends or a short trip to Austin, the cooler is imperative. We've been on the verge of buying a new one because the one we bought a couple years ago for camping has fallen to pieces. The latch broke off, the seal doesn't quite do it's job anymore, and it's filthy as ever.
So when we stumbed upon this gorgeous, turquoise-ish lady, it was love at first sight! Josh and I both spotted her at the same moment and instantly stooped for inspection. She's metal, which I adore. The latch should never break, the plug and liner are all in excellent condition, and she's the perfect size: not too big, not too small, juuuust right!
We love her.
And look, she even has a bottle opener on the handle!
Unlike our cheapo plastic cooler that's literally fallen apart, I'm confident she'll serve us well for years to come, on trips, picnics, overnight escapes, kayaking adventures... Yes, she's officially a member of the family now.
So there's our most recent treasure-hunting recap! Wasn't that fun?? What did you do this weekend?