Given my last post it's obvious how smitten my husband is with our tiny little girl. No explanation necessary, it's written all over his face. But did I mention how much she adores him in return? Nah. I didn't. Truth is I'm the tiniest bit jealous. ;-)
Certainly there are many days she doesn't want anyone but her Moma. Certainly there are moments no one can calm or soothe her but me. Certainly I can see it in her eyes when someone new is holding her but she's frantically scanning the room for me alone. But oh man, she so adores her Daddy... She giggles and smiles more for him in the first 5 minutes he walks in the door in the evening, than she does for me ALL DAY. Yet despite that tiny tinge of jealousy, I have to admit I love it more than I can express. It's beautiful. Breaks my heart and fills it to capacity all in the same instant. Every. Single. Time.
Point and case: Yesterday I met up with our friend/realtor to walk thru the house we've been looking at. Josh planned to meet us there. Everyn was cranky as ever, just griping about nothing in particular. I'd walked and bounced and fed, run thru every tool in my arsenal to try and make her happy. Nothing did the trick. Josh pulls up, walks up to me all smiles and grabs her, and this is her immediate response...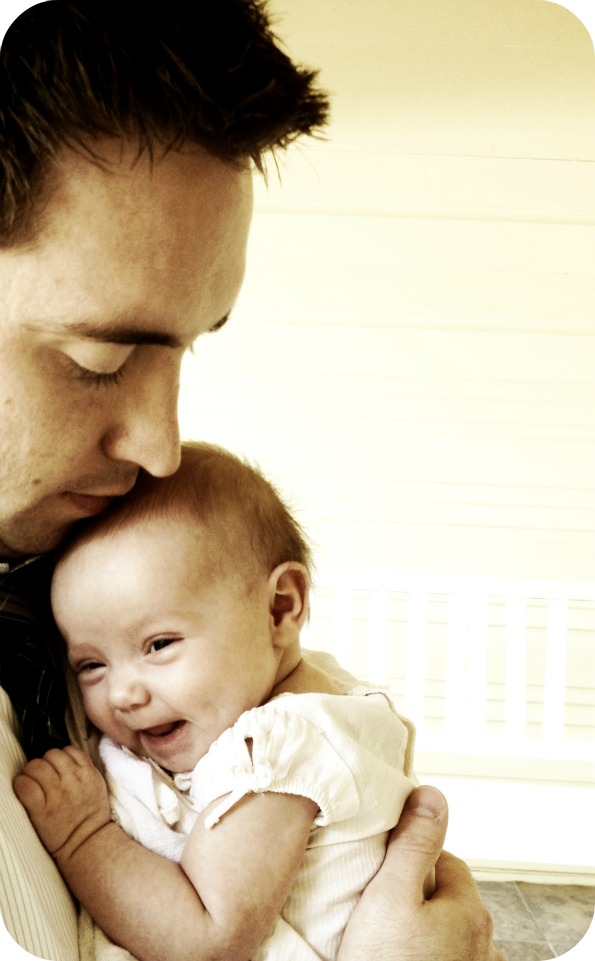 She snuggled into his chest all smiles and endless giggles.
*sigh*
Yep. She adores her Daddy. And he adores her. And I, well, I hopelessly adore them both.