I received the most precious gift recently. First came a note in my inbox that read,
Send me your mailing address. I have something for you I believe you might treasure. I know I have.
A few days later an envelope arrived in the mail. I opened it to find the sweetest note:
Terrica,
I have kept this in my Bible since the day you were married. I had planned to give it to you on your 10th Wedding Anniversary, but with the baby coming I want to give it to you now because you will have your hands full by then. Thank you and Josh for allowing me to be a part of such a special time in your life.
Love you, Bro Al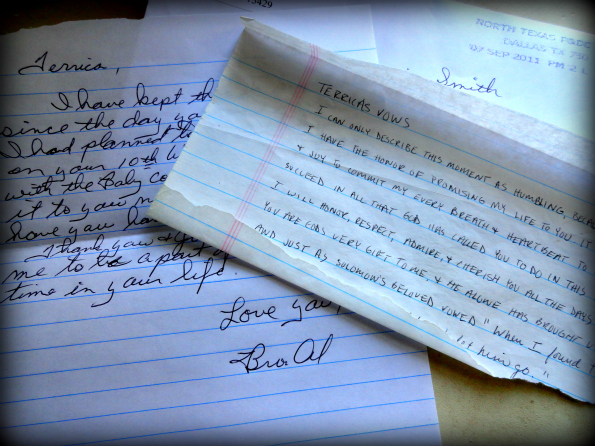 And folded inside were my handwritten wedding vows. Brother Al officiated our wedding. There wasn't even a second option, as far as I was concerned. He was simply the only choice to marry us. I vaguely remember the rush of that day, somewhere along the way handing him my scribbled vows just in case I got stumped and needed help. But never in a million years would I have guessed that he'd keep them tucked away in his Bible for almost a decade. Reading his note I got a little teary-eyed, feeling suddenly so deeply loved and celebrated.
'Brother Al' as I've always called him, came into my life when I was about 13. It was a painful age for sure, for a whole host of reasons that anyone who's ever been 13 knows well. He became a kind of spiritual mentor to me, like a long lost loving uncle suddenly emerging onto the scene of my life to cheer me on in any and everything. He and his sweet wife Mary were the associate pastors and worship leaders at our church so I became accustomed to seeing them every Sunday and Wednesday, but I also spent hours upon hours at their house. They never even required an advanced phone call. They'd answer the door with smiles and hugs, invited me in and feed me, let me rattle on an on about whatever my heart desired, answer all my thoughtful spriritual questions as best they could.
They saw me thru some dark seasons, difficult moments, heartbreaks and loss. They saw me celebrated on stages, performing, winning writing and drama competitions year after year. They never failed to answer my midnight phone calls when I was frustrated with God and desperate for answers. They prayed, for me and with me, and taught me what it truly means to love peole well, what it truly means to be a Believer. Highs and lows, they were always there, always smiling, always reminding me how very deeply I was loved. So when the day came for me to walk down the aisle, there wasn't a second choice. It had to be Brother Al, and of course he was overjoyed to do it.
I've been blessed, and I mean that, blessed to have parents who love the Lord and have raised me accordingly. It's a heritage I will never, ever take for granted and will unquestionably pass on with sacred joy to my own children. So how much more of a blessing, how charmed a life have I, that for as long as I can remember I've been surrounded by a godly community of faithful Believers who provoked me to life and godliness?? That is no small thing. Spiritual parents, mentors, teachers, guides. Life pastors, righteous encouragers, loving watchful eyes who never let me stray far from truth. Shepherds, affirmers, directors, intercessors who prayed for me long into the night, awoke early in the morning with my name on their lips.
I say again, it is no small thing.
My life has always reflected such abundance. Even today, right this moment, I have a list of names and numbers I could dial and in an instant connect with one of a dozen prophetic voices, righteous Believers who will likely already know on some level what's going on with me because they've had my name before the throne. Because they understand exactly what it means to serve, to raise up the next generation, to love well. On occassion, like Brother Al, they've divinely appeared on the scene. Other times I sought them out, pursued them, begged to simply sit at their feet, to glean from their fields, and they graciously, obediently allowed it.
The simple truth is that I am well aware that there are children born by the minute on this planet who will never know a single loving parent, a single loving word. They will never know arms that embrace regardless of behavior or circumstance. They will never be taught the unspeakable joy of knowing God. And their lives and choices will reflect that deficit every day less God intervene somewhere along the way. That knowledge doesn't make me, even in the smallest way, feel special. It humbles me.
I will always seek out godly counsel, mentorship, truth-tellers who have gone before me and know just a bit more about this crazy life than I do just yet. I will glean from their fields, pick their brains, ask hard questions that may never find answers. I'll try my best to slip on their much bigger shoes and stumble around in circles, because that is precisely where growth comes from, where wisdom is hidden.
Paul had Barnabas. The disciples had Jesus. Ruth had Naomi. Elisha had Elijah. Joshua had Moses. Without question, spiritual mentorship was clearly illustrated in the Bible as a means of raising up powerful leaders in the next generation. It's imperative to healthy spirituality.
We should all practice both the giving and the receiving, both having and being mentors. Becaue I assure you, there's something divinely comforting and empowering about knowing you can pick up the phone in the wee hours of the morning and call your own 'Brother Al'. And there's something deeply stirring that happens on a soul level when you open an envelope to find wedding vows you scribbled down a decade prior, that someone else has treasured and guarded day by day. The universe stands still for a moment, and you realize the God of the Universe is grasping for your attention, reminding you again just how greatly you are loved.
What are your thoughts on spiritual mentorship? Are you indifferent on the topic? Is it something you've always practiced? Perhaps something you're desperate for and attempting to seek out?