I can't wrap this series of posts about the England/Scotland tour without sharing a few highlights of our last weekend in Edinburgh. So if ever you find yourself in this corner of Scotland, I highly recommend hitting up a few of these charming stops.
First, pop in this amazing little market (which was literally around the corner from our hotel, ahem, He will perfect that which concerns me ;-) and pick up a small bar of creamy, organic white chocolate.
Upon leaving take an immediate right and walk down about a block to what has to be the UK's most authentic feeling coffee shop, Artisan Roast.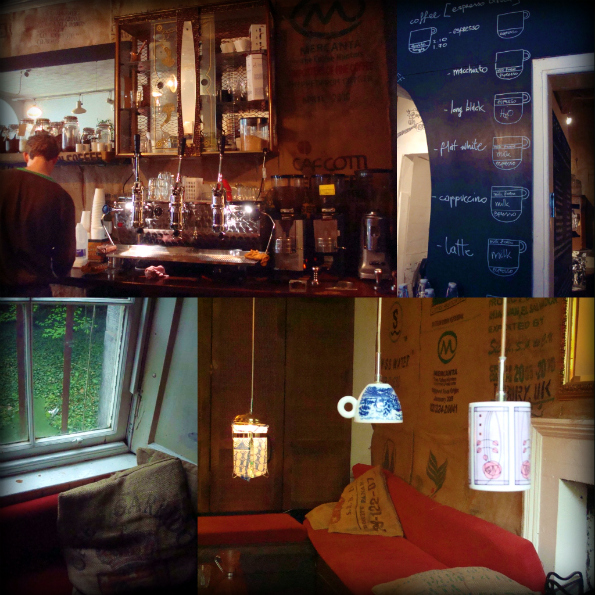 Walls covered with burlap coffee bags, homemade french press and tea cup light fixtures dangling from a cloth-draped ceiling, a wood burning fireplace, windows overlooking ivy covered courtyards...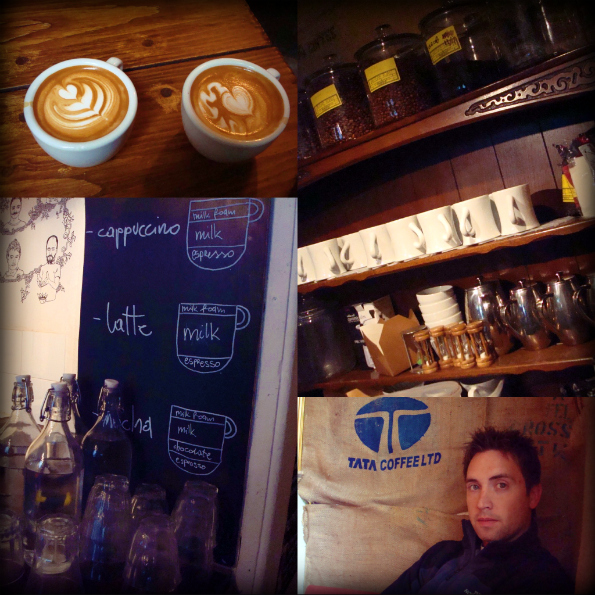 Chalkboard painted walls, coffee concoctions explained, a heart in my latte, and this terribly sexy guy sitting in a quiet back corner...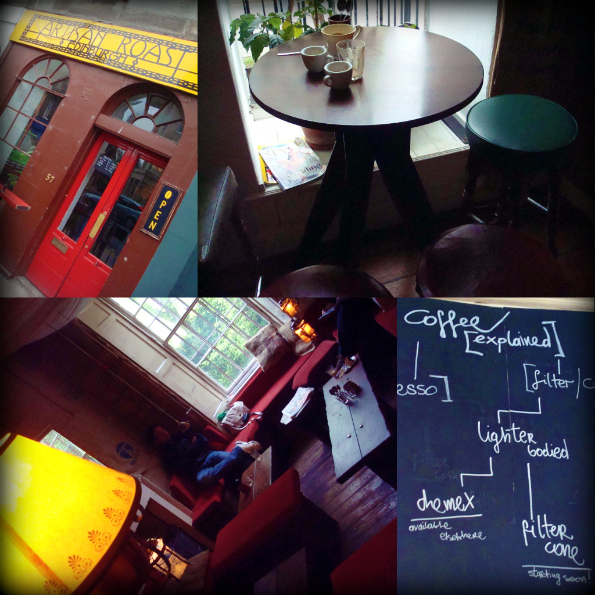 What's not to love?! Nada. Nothin'. It's perfection. Find a corner, unwrap your chocolate, dip tiny bites into your steaming cup of whatever until nice and melty and simply enjoy the ambiance.
Next stop, Unicorn Antiques. A short walk from the coffee shop tucked down a residential street, if you're into treasure hunting in foreign lands, it simply cannot be missed!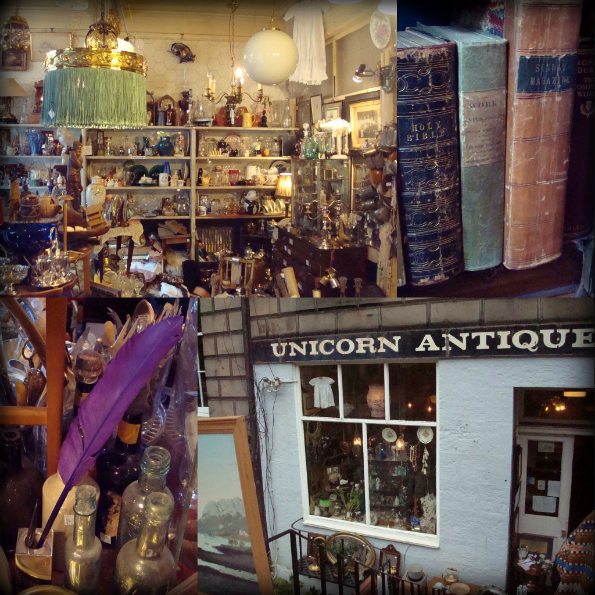 Oh my goodness gracious. I wish you could have witnessed my school-girl squeals of anticipation and delight...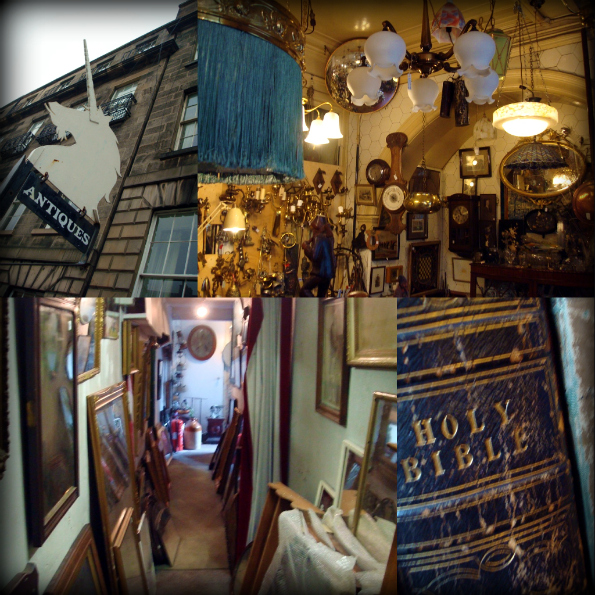 Endless shelves and rooms and hallways and staircases packed full of trinkets and treasures! The photos alone make my heart race.
Josh eventually dragged me reluctantly away, grumbling my angst about leaving before I had the chance to fully examine each dusty corner and individual box of junk. And photograph it, of course. He said I'd get over it. I still haven't.
He wanted to head back to Grassmarket for lunch. (and you should too, by the way. I keep forgetting if this post is about you or me... Ok, back to recommendations. ;-) For lunch, do head across town to Grassmarket. It's a lovely part of the city, full of character and color.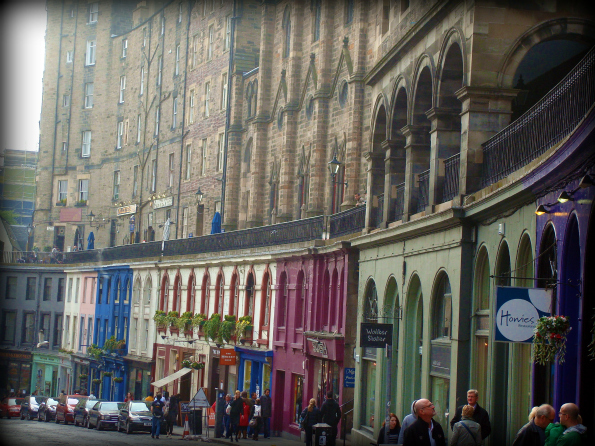 For a quick bite, stop in Oink. You can't miss it, I promise. Just look for the line of people next to the roasted pig in the window.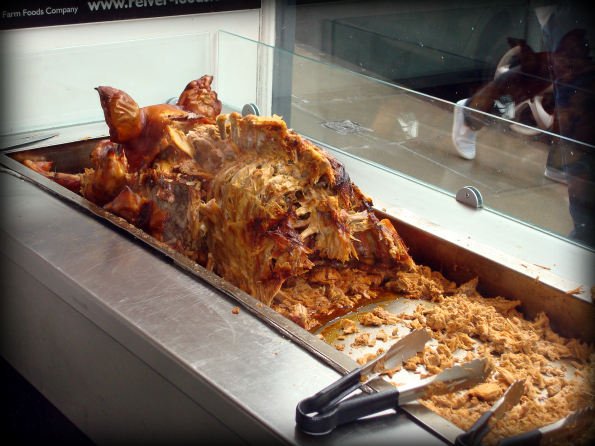 I wasn't much into the pig. (I'm vegan-ish these days, you know. It's yet to be determined if this is a passing phase or something more lasting. Josh is hoping it's a phase.) He did happily indulge in a pig sandwich however, just before we wandered into this lovely shop next door called Demijohn.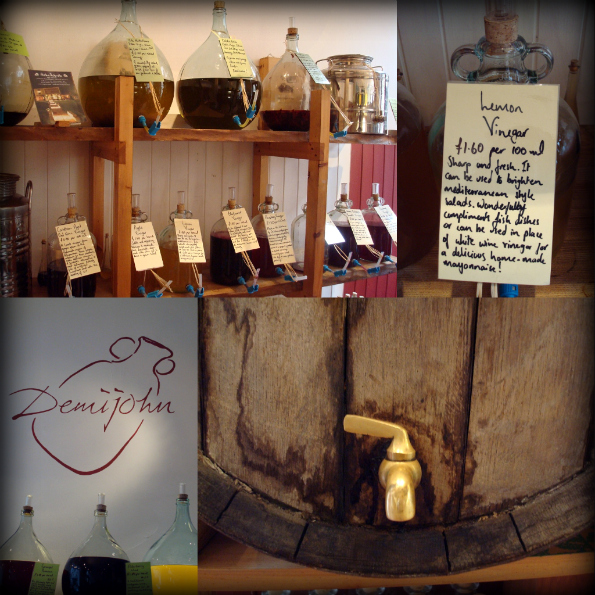 Ah, yes, much more my style. They sell the most wonderful vinegars made with locally sourced ingredients, definitely worth a stop on your agenda. I tasted about a dozen before deciding on Lemon, Strawberry, and Blackberry. They're SO tasty. Like dessert.
After your vinegar tasting take a walk down the Royal Mile, just because you should.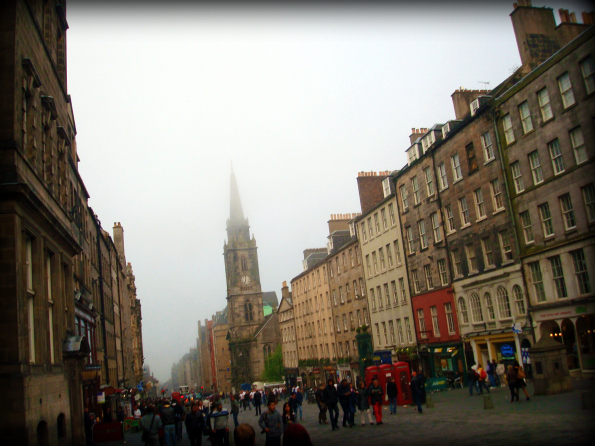 Don't forget to stop in Elephant House, the coffee shop where JK Rowling wrote the first Harry Potter book... longhand.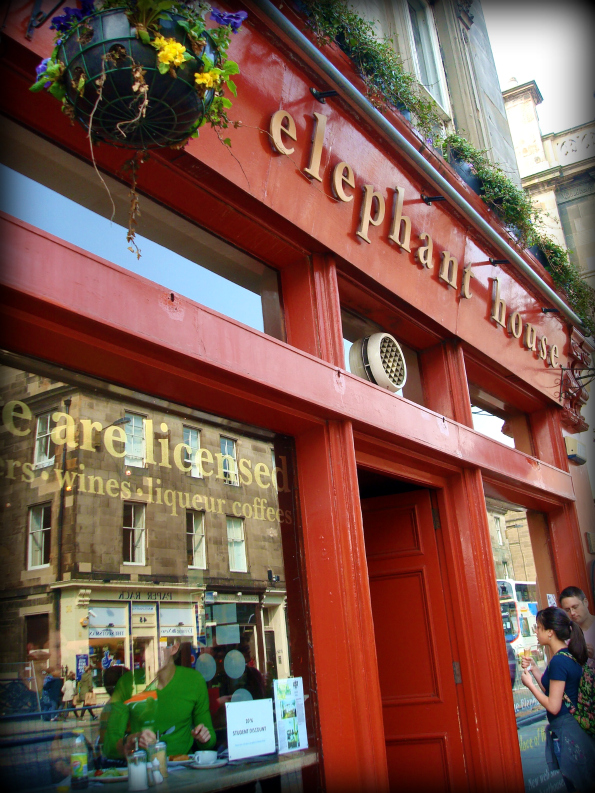 I popped inside and snapped this shot, then nonchalantly announced to Josh this was the specific spot where she sat while she wrote it.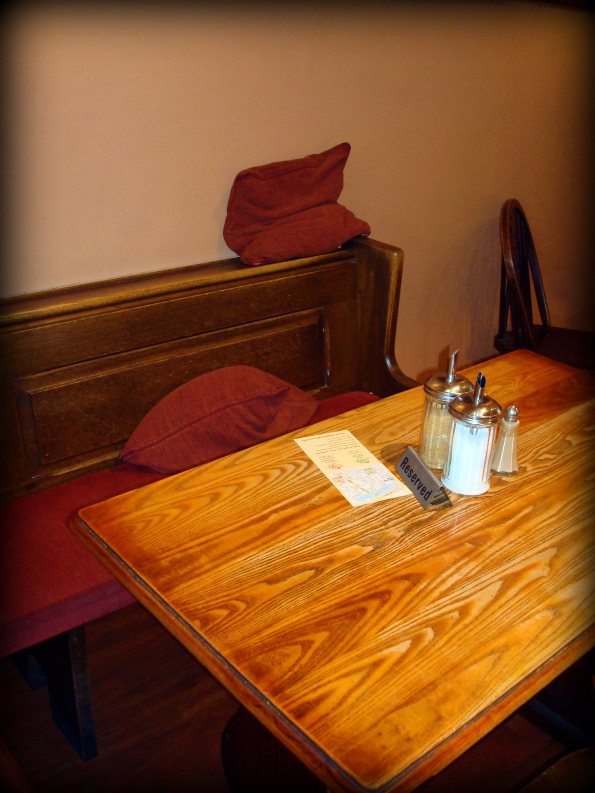 He believed me for about 4 seconds.
After a long afternoon wander about the city, you'll be ready to eat no doubt. If you happen to be into the farm to table movement like we are, check out this darling little cafe, Urban Angel. (which also just happened to be immediately around the corner from our hotel, just between the organic market and the coffee shop ;-) It's delicious.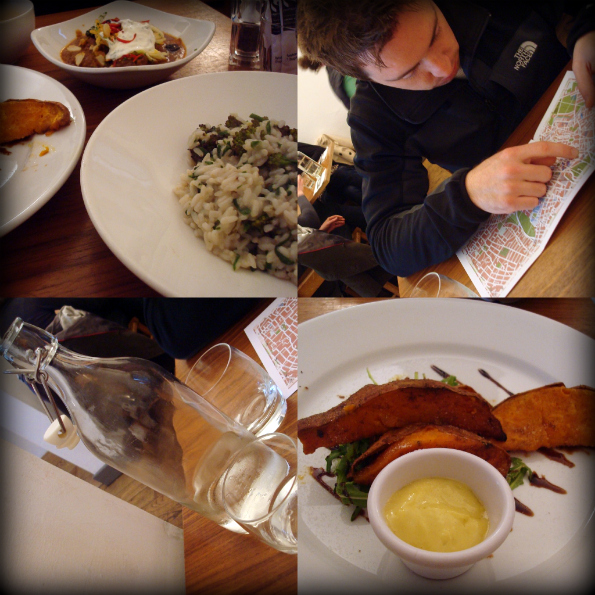 Wild mushroom risotto, roasted sweet potato wedges, some sort of delicious 'teenage lamb' stew. (I said I was vegan-ISH. That means I get to be vegan when I feel like it and use it as an excuse to not eat things I don't want to when necessary...like gigantic roasted pig that still has cute ears and a face. Although I have to admit that typing the words 'teenage lamb' in reference to our stew suddenly sounds equally awful... (Oh my, how ironic. As I was literally typing that last sentence my husband walked in and handed me my latest package from amazon...Alicia Silverstone's 'The Kind Diet' Vegan Cookbook. I'm not kidding.))
Hmmm....and on that note, I'm signing off! Tomorrow I'll take you for one last walk thru the stunning city itself... and tell you about a few upcoming adventures.