Meet the newest addition to our wee garden!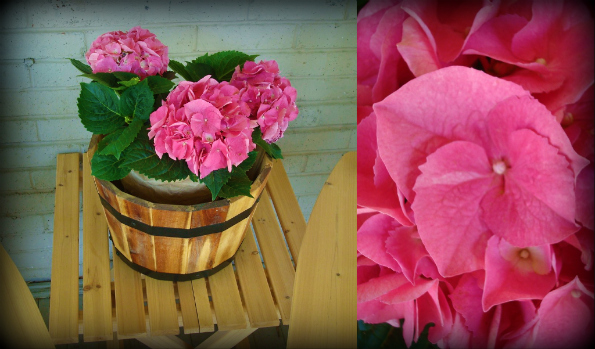 The most beautiful basket of vibrant hydrangeas, a welcome-home-from-Europe-gift from my sweet friend Brittany. (Funny note, when we arrived home from the UK Josh literally dropped his luggage in the kitchen floor and immediately announced, "I'm going to check on our little green family!" He barely even acknowledge the furry children dancing ecstatically at his feet or anything else for that matter.) But anyway... aren't they lovely?? They definitely add a feminine flair to our otherwise entirely green wee garden.
I love them.
I solemnly vow to nurture an nourish them daily.
I promise to not forget to water them, or drown them by overcompensating because I forgot to water them the day before. Or scorch them in too much Texas sun. Or cause them to turn yellow because they got no sun.
And I confess, I already fret and worry constantly about my inadequacies as their caretaker.
Ugh. I'm so horribly afraid I'm going to murder them. And murdering these lovelies seems so much worse than murdering a pot of herbs for some reason... because my friend gave them to me as a gift, because they're so delicate and girly, because their pink. I don't know! Just help me. Lord, help me. Help me not commit a massacre. I cannot do this alone.
So how is your garden doing??