Look. At. THESE. Need I tell you how much I adore them? I'm sure you can guess...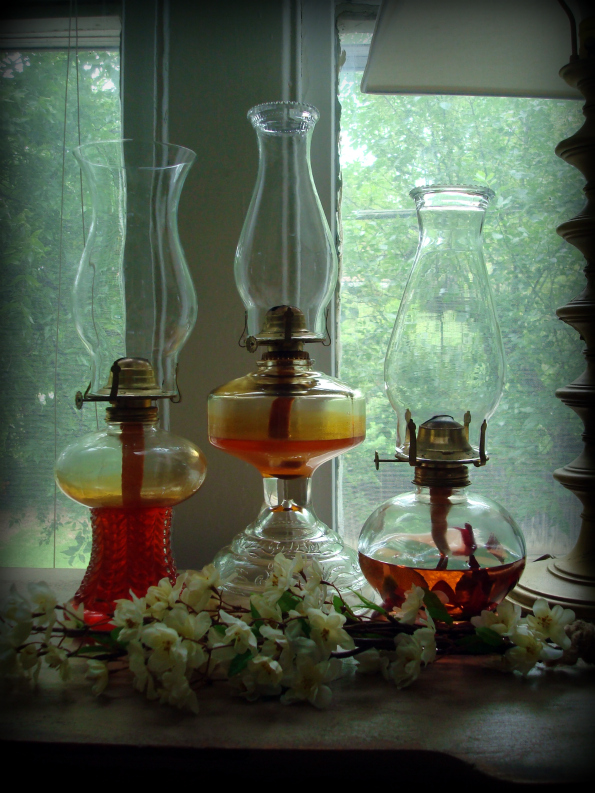 So this weekend we were at my parent's house celebrating Mother's Day, and just as we were packing up to leave my mom casually mentioned a bucket by the door with a lamp in it. She'd said something about it earlier but I hadn't paid much attention. As I was peering into the dirty blue bucket to get a glimpse however, she also mentioned something about an old dresser and some other odds and ends at an undisclosed location, to which I immediately responded, "Let's go! Like, now. Can we go??"
Within 2.5 minutes we were all loaded up in two vehicles and setting off to treasure-hunt! Family tradition, you know. Mom and Dad in the truck, Josh, Tirzah and I in our car.
Half an hour later I was the very proud owner of these beauties, antique kerosene lamps, and had effectively scheduled a return trip (okay, pathetically begged to return to the undisclosed location) the following weekend to pilfer through the remaining odds and ends. I have my eye on several boxes of vintage dishes I'm certain Christine will adore, as well as all sorts of yet to be discovered trinkets, I'm sure.
How beautiful are these guys?? Look at the detail...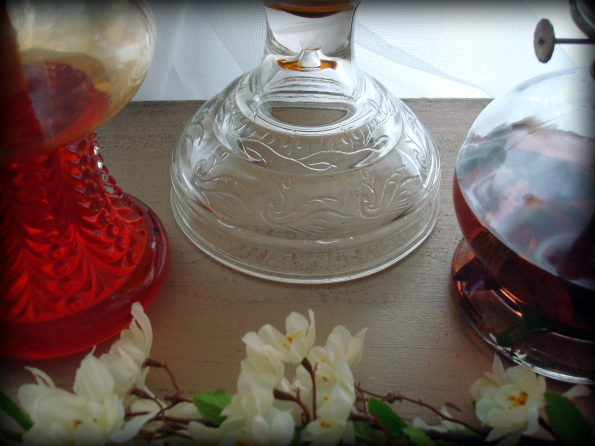 I've actually decided to split them up at the moment. One in the guest room, one in the living, and the largest in our bedroom. Josh has been lighting it every evening for me to read by. It's so much softer than the light from our bedside lamp, and as my Dad noted with a chuckle "so romantic!" He was half serious, half mocking, of course. ;-)
I love them. So much charm. I keep finding myself stopping to stare at them for long moments.
Eventually I'll get fresh oil (not colored), but it's pricey so we'll certainly burn what's in them already first. Great for blackouts! Energy saving! (sort of) And of course they were FREE...
Man I love treasure hunting.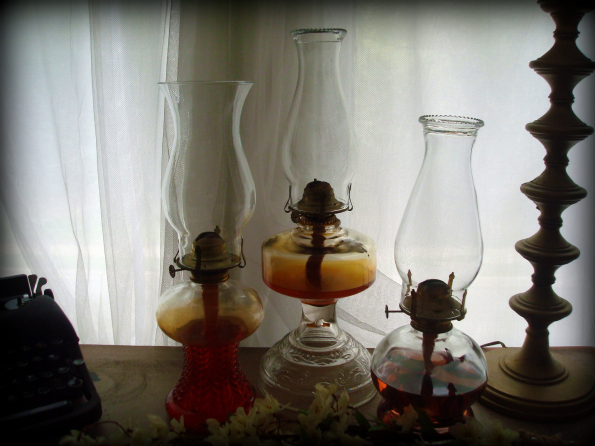 Have you found any treasures lately??