Have I ever told you how much I love a great bargain?? No, wait. Let me rephrase that. Have I ever told you how obsessed I am with finding a great bargain?? Well, I am. We call it treasure hunting. It's in my blood, a trait passed down for generations on both sides, making me something like a modern-day Christopher Columbus. (Don't laugh. I'm that tenacious and determined. It's a fair comparison, I'm certain. Someday I'll share my favorite risk-my-life-dumpster-diving-in-the-dead-of-night-and-pouring-rain-while-my-husband-looks-on-in-sheer-horror-and-humiliation-stories with you...)
This is also a great time to mention that I recently stumbled upon a new show on A&E called Storage Wars. Oh my goodness, it gets my blood pumping. I'm totally considering making a career of buying abandoned storage units now, just for the thrill of it!
All of this treasure hunting talk is getting me excited and off track...back to the purpose of this post...
So I was at Micheal's craft store the other day getting paint and whatnot for a current re-do project (more on that later), and as I passed by the $1 bin something caught my attention... Typically those bins are full of junk and clutter I'm not interested in, but these are definitely an exception!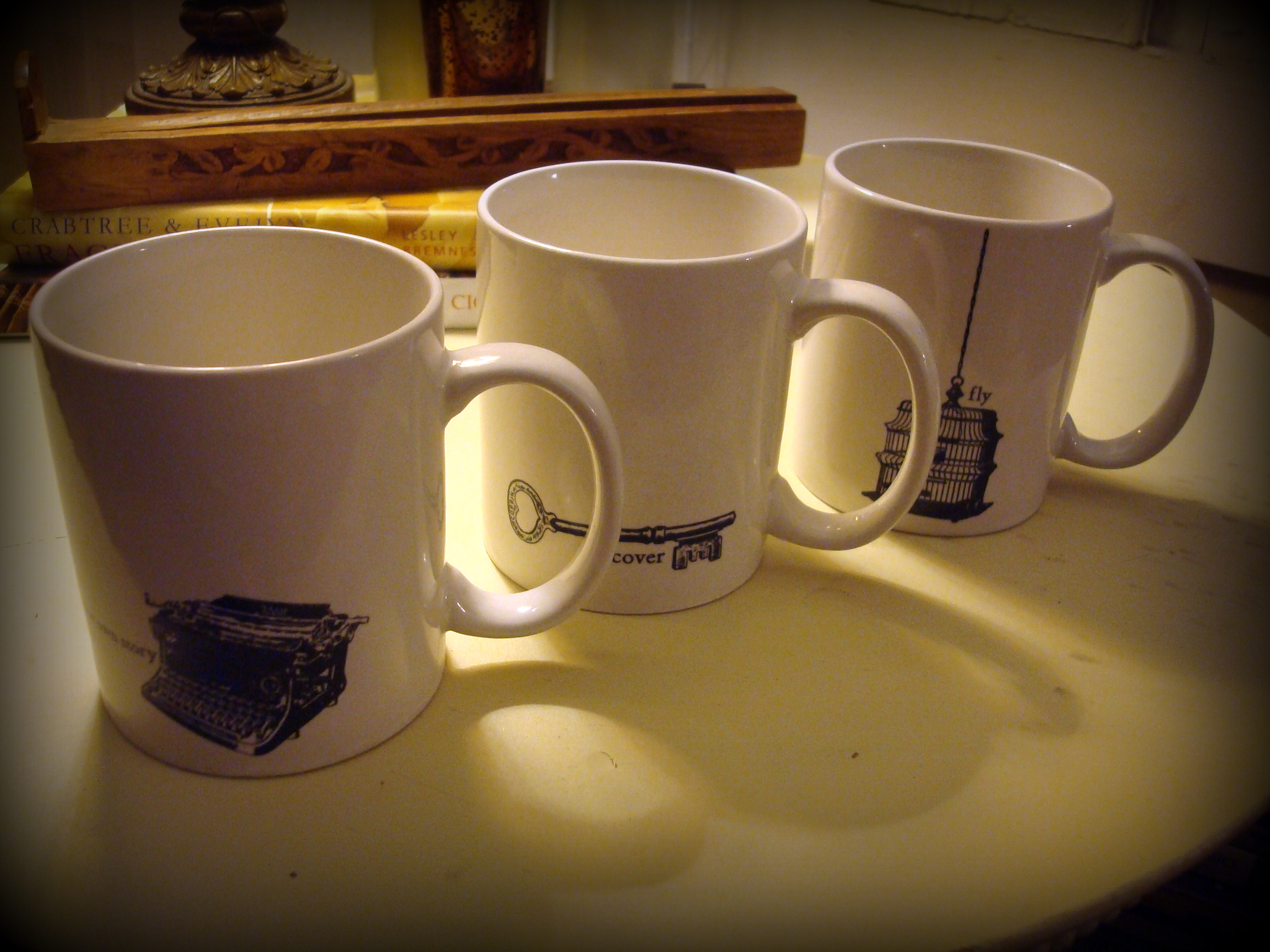 How GREAT are these?! Let me show you some close-ups: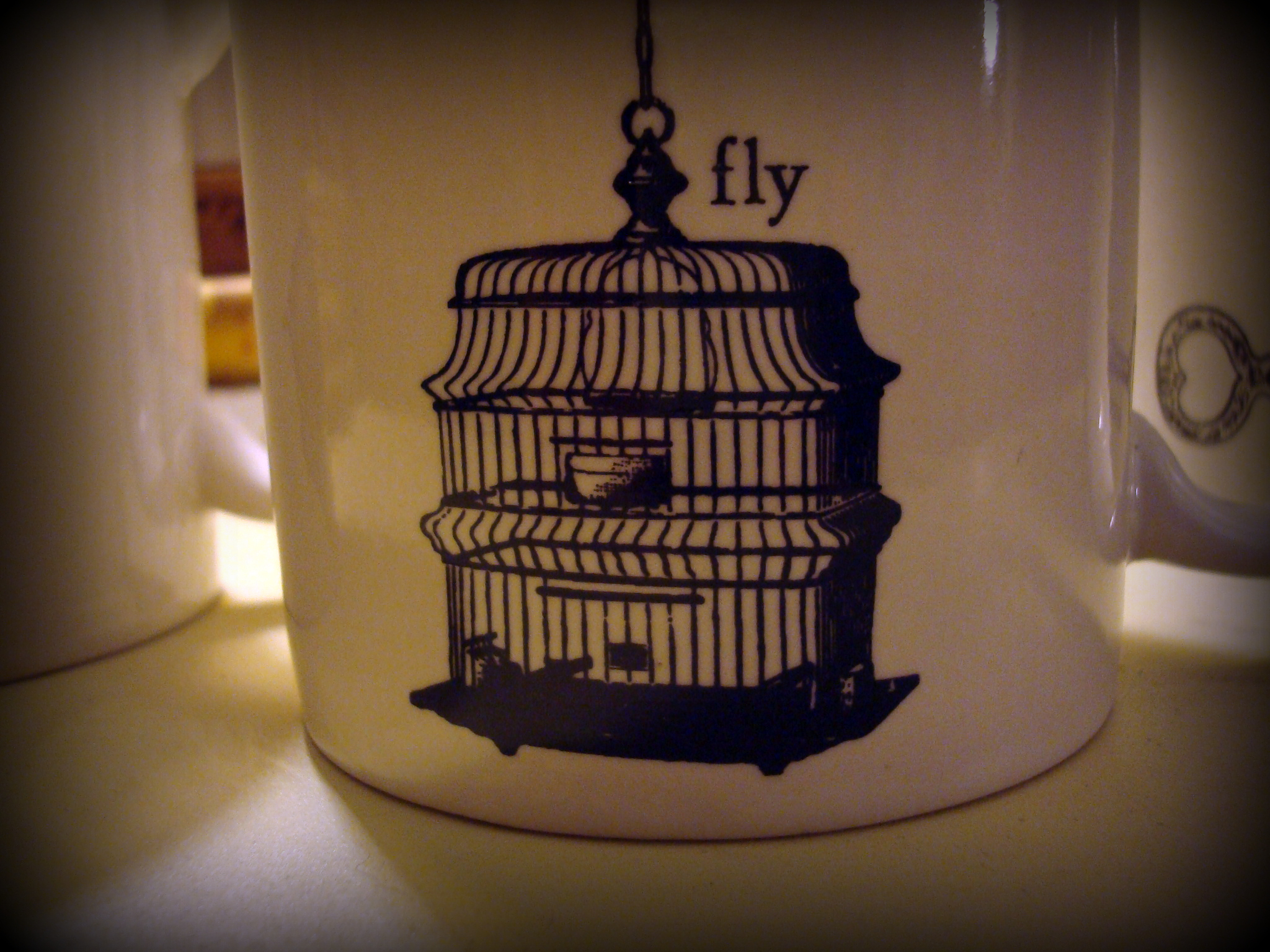 'fly' with an empty birdcage. I'm in love. (random side note: there's an old shabby chic looking pedestal birdcage at one of my favorite thrift stores in town that I've been eyeing for awhile...I think I must have it now, for sure. To compliment my mug, of course.)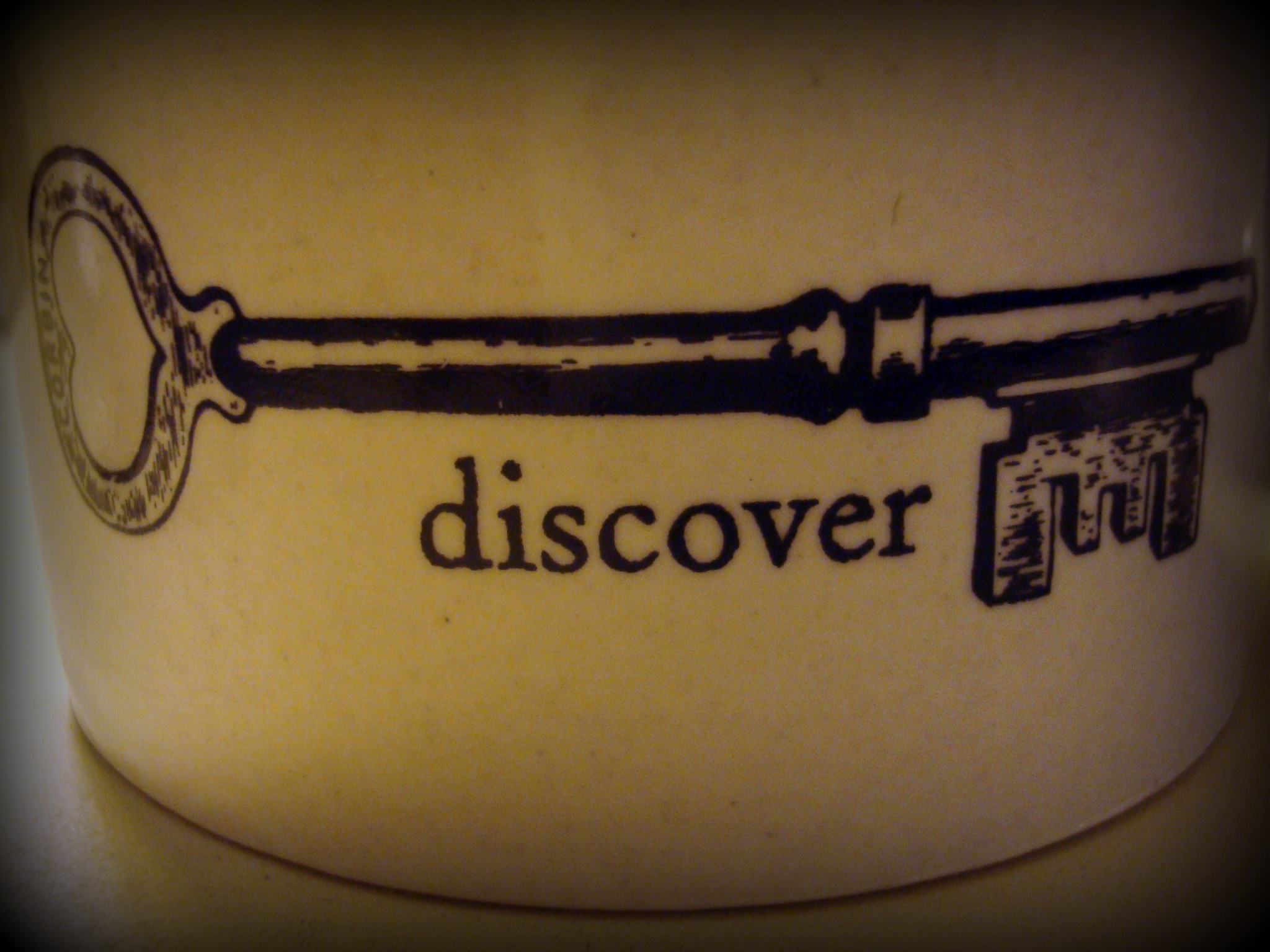 'discover' with an antique key. It's like, my life's mantra on a mug.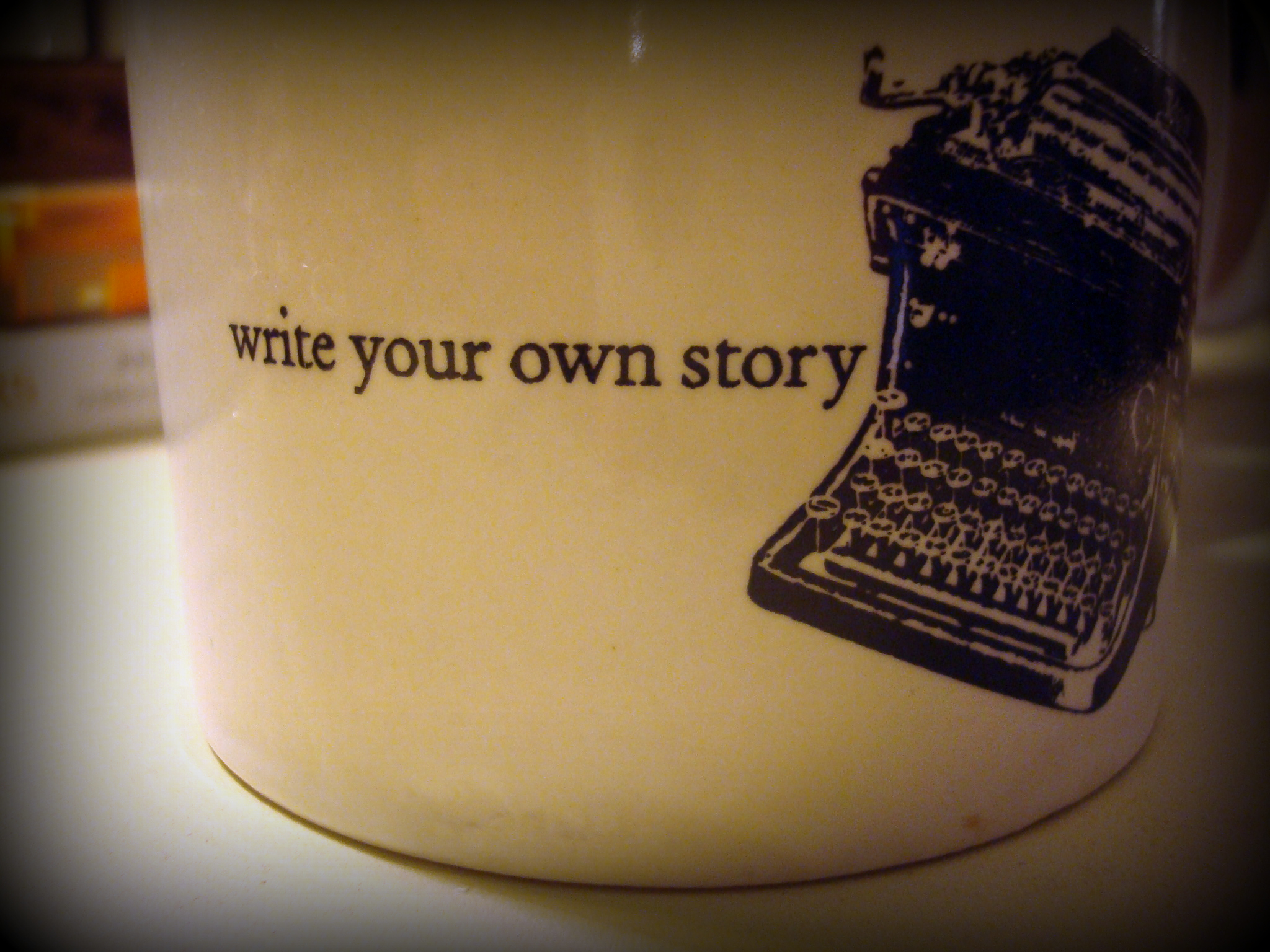 And this one. Oh, be still my fluttering heart. 'write your own story' with an old typewriter. I couldn't possibly love it more. (I'm already having horrible visions of Josh breaking off the handle and immediately locking wide eyes with me, horrified...) It also totally makes me think of Donald Miller's amazing A Million Miles in a Thousand Years. If you haven't read it yet, please do. You won't regret it, promise. It's a life-changer.
I'm convinced drinking hot tea from these little beauties each morning will change my life. Yes, as opposed to other mugs in my cabinet, these will inspire me to greatness, I just know it. (Embarrassing confession: I'm actually fairly serious.)
These were literally the last three in the entire bin-wall. Believe me, I did a thorough search, like, 4 times over while Josh stood off to the side sighing loudly to let me know he was totally OVER my mug-hunt. But then suddenly, my diligence paid off when I stumbled upon these at the very bottom, one actually having fallen underneath the bins. (Yes, of course I laid flat on my stomach in the middle of the floor to dig it out. Yes, of course Josh almost died of shock and embarrassment.)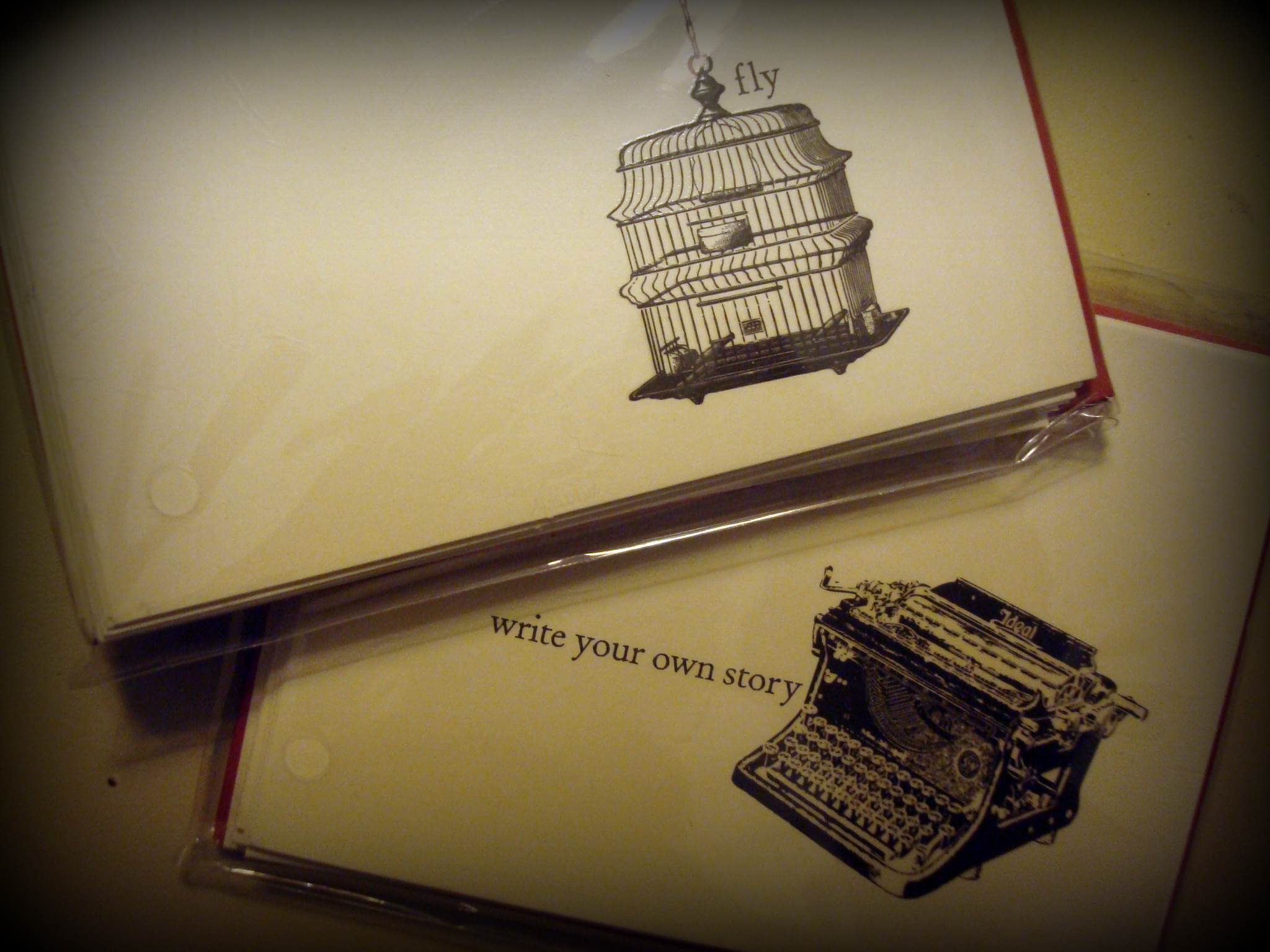 Matching notecards!! (Wouldn't you have done the same??)
And I even found these guys, a rather bittersweet moment realizing there were in fact even more options at some point... Don't you hate it when you realize someone beat you to a treasure? Ugh. It's the worst.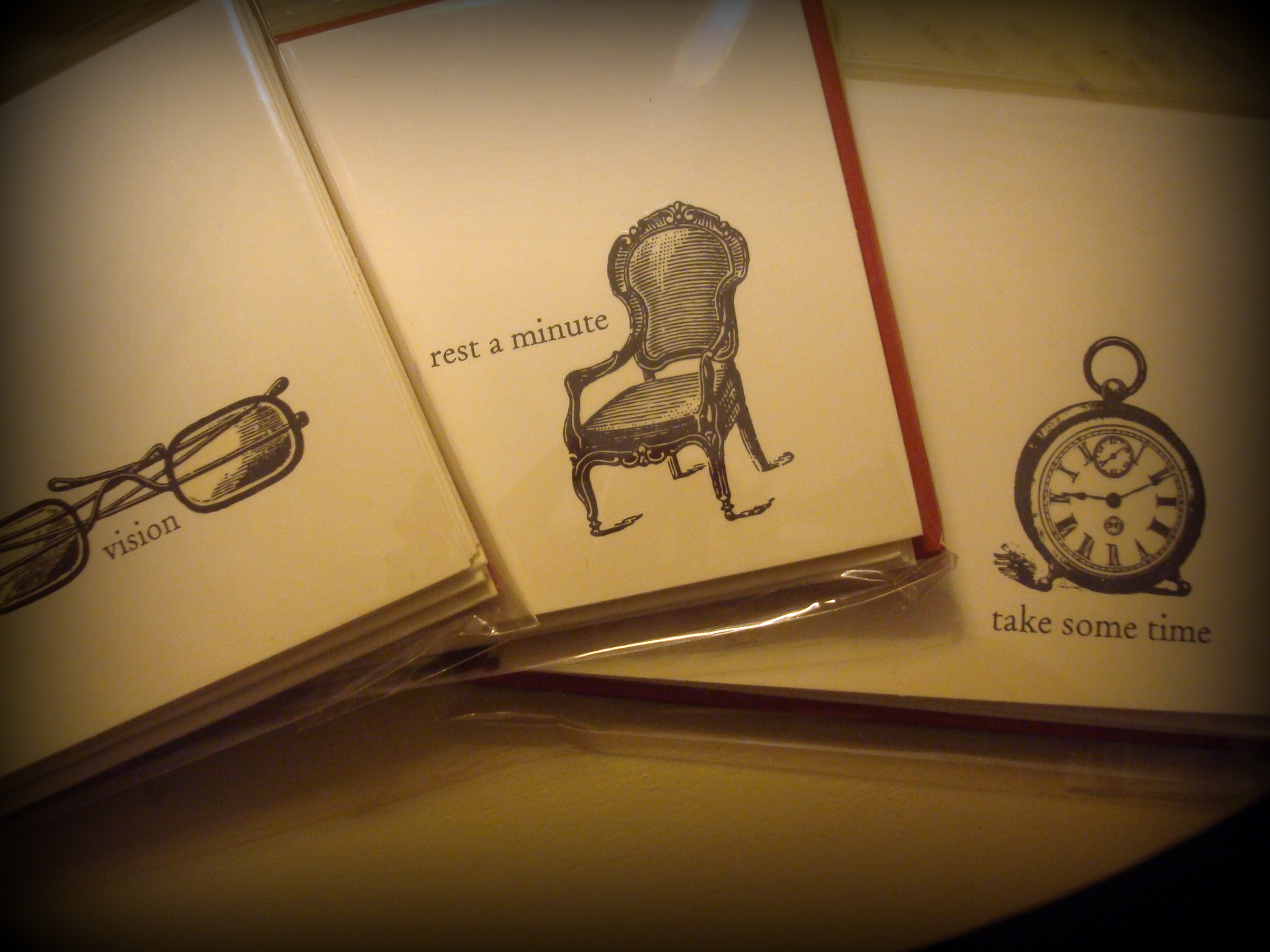 'vision' with an old pair of glasses. 'rest a minute' with an antique chair. and 'take some time' with an antique pocket watch. I. Love. Them.
All for a buck each! Wouldn't these make the most adorable little Christmas gifts for friends or co-workers? And SO budget-friendly, although you'd never know it. They look like they came from Pottery Barn. I heartily suggest you immediately google all the locations of your nearest Micheal's stores and scout it out. You might just get lucky! Chances are some other bargain hunter beat me to this find and stingily loaded up all the goods! Jerk. (Although had I gotten there first I totally would have done the same...)
Happy hunting! Let me know what you find...